Eleven years after its founding in 1988, Bob Odenkirk would say that The Onion was "the best comedy writing in the country, and it has been since it started."
Scott Dikkers is no stranger to the business of comedy. After co-founding The Onion and acting as editor for 15 years, he took a sabbatical — and realized he wanted to teach more people how to write comedy.
Or, as he titled his book, How to Write Funny.
Today, How to Write Funny is more than a book title: it's Scott's brand. And though he's been in the comedy business for a long time, he's only now building a brand based on his own reputation. Keep reading to learn how Scott:
Used his experience from The Onion and The Second City to launch two new brands
Reaches and engages aspiring comedy writers with help from ActiveCampaign
Plans to share his entrepreneurial wisdom and love for comedy going forward
Write (and sell) what you know
After 15 years as editor of The Onion, Scott went on sabbatical to write a movie and work on a TV show. At the same time, he noticed that there was some important advice missing from the comedy scene.
"I have all these terms I use, like subtext and funny filters. I can recognize professional humor writing because it uses these tactics that amateurs don't use — and when I looked around I didn't see anyone else writing about that." – Scott Dikkers
After years as a professional humor writer, Scott could recognize the elements that made writing funny. He also knew how to teach funny writing, so he wrote and self-published a book (How to Write Funny), releasing it without much fanfare.
Billed as "the definitive joke writing handbook," How to Write Funny promised to give readers "a simple comedy-writing and joke-writing formula [they] can use right now to write [their] own jokes."
How to Write Funny was never designed to be a runaway success. Scott published the book without running the large-scale book tours that often go along with the release of a major project.
Still, How to Write Funny caught on. As Scott says, "it really became a grassroots thing."
It might have helped that Scott stayed active in the comedy scene. As the book released, he was leading the "Writing with The Onion" classes at the world-renowned Second City training center in Chicago. The course was broken into four sections, from basic to masterclass:
How to write a joke
How to spin a joke into a longer story
How to use a group to make your writing better
A group comedy writing project
The first class, on joke-writing, covers the material that Scott converted from How to Write Funny. The second class eventually became a written sequel.
Scott's second book, How to Write Funnier, teaches the concepts of his second course; how to extend a joke into a longer (funnier) story.
Books and courses were a start. But Scott knew he wanted to reach more people — and thought that starting an online project could be a way to spread his message. Scott rebranded his podcast, "The Comedy Insider," by changing the name to How to Write Funny.
The How to Write Funny brand had started.
How building The Onion helped Scott build his own business
When Scott struck out on his own, he had an idea and a self-published book. He also had a podcast (under a different name), but after his experience building The Onion, he knew it would take more than that to build How to Write Funny into a brand.
Scott used his entrepreneurial experience at The Onion and Second City to start spreading How to Write Funny. He now offers:
A comedy podcast with top comedians as guests
Downloadable content full of comedy writing advice
Online courses
An email newsletter
A Facebook group
Several books
Scott also speaks at events and conferences, like Digital Summit. One of his talks is called "Peeling the Onion: The Inside Story on Marketing & Branding the Original Fake News."
Along the way, Scott has fielded questions about the business of comedy.
"Nobody teaches you the business of comedy, or how to break into the business, or how to make money." – Scott Dikkers
People wanted to know: how did he grow The Onion with no marketing budget? How do you grow a small satire newspaper into a national digital media company?
So, at the same time as building up How to Write Funny, Scott wrote another book. Instead of a comedy writing guide, Outrageous Marketing covers the business side of The Onion. Scott shares 13 principles of "outrageous marketing" that the most successful companies — including The Onion — use to grow their brand.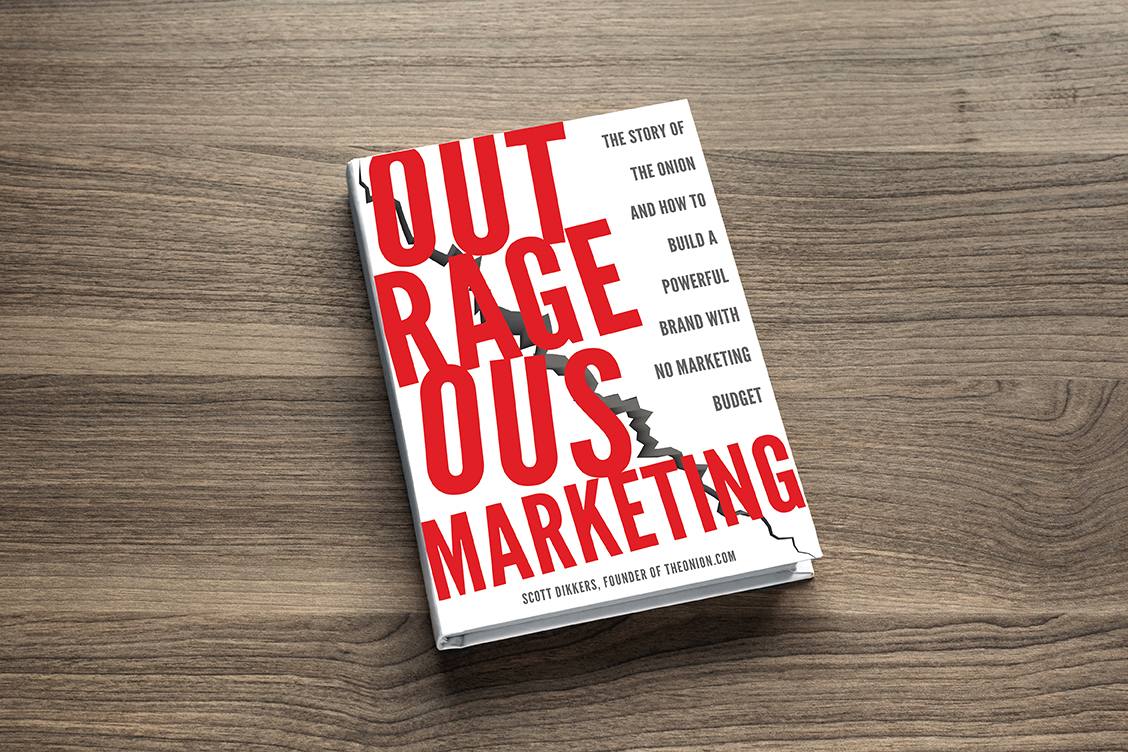 Outrageous Marketing: The Story of The Onion and How to Build a Powerful Brand with No Marketing Budget. This book was Scott's first foray into sharing his entrepreneurial expertise — but it wouldn't be his last. (Source)
As valuable as his experience with The Onion has been, there have been new things to learn as Scott's own brand has continued to grow.
How technology helps Scott build a new brand of comedy from scratch
"I've always hidden behind a brand name and a product, but now I'm really selling me and my expertise. A lot of the value I'm adding comes from having access to me. Having the emails come personally from me, or emails that I respond to personally, personal mentoring — that's an aspect where I need a service like this to manage my communication." – Scott Dikkers
As Scott grows How to Write Funny, he has 3 goals:
To be more scalable
To teach more people comedy
To be in charge of his own marketing, instead of relying on Second City or The Onion
Scott needed a marketing and sales automation platform that could help him reach the right audience — without relying on a big brand name.
"Being autonomous, that's really exciting because that's how I started," he explains.
When Scott was mostly teaching smaller, in-person courses, he used Mailchimp for his email marketing. But as his email list grew, Scott grew out of what Mailchimp offered.
He had already set up ClickFunnels to offer free downloads and collect more leads — now he needed a marketing automation platform that he could connect and start using quickly.
"My assistant and I went through all of the email marketing platforms and tested them," Scott says. "A lot of them are really complicated. I want it to be completely butt-simple. Anything more complicated than that and I'm done — I don't want to get into coding or anything technical. It was literally days of what felt like computer programming."
Then they found ActiveCampaign.
"I totally loved its simplicity," Scott says. "Even I can go in and make an email and send it, and I completely understand what's happening. The integration with ClickFunnels is seamless."
How Scott turned in-person classes into online marketing (and connects with more people doing it)
Without a media brand or established training center behind his new brand, Scott needed to be able to attract people to his email list after they found his website.
To do that, Scott offers 3 free comedy writing resources for download on his website:
A joke-writing cheat-sheet
An ebook for beginning comedy writers
An ebook for advanced comedy writers
Different resources for different levels of comedy writing experience.
The downloads offer a taste of what Scott teaches in his classes (and his books). Most importantly, they offer visitors advice they can use right away — a lead magnet called the "joke-writing cheatsheet" promises results you can see in an afternoon.
Of course, to download a resource, you need to share your name and email:
Scott uses the ClickFunnels integration for ActiveCampaign to collect emails in exchange for content downloads.
What's the first thing readers get when they sign up? Even more useful info
The moment after someone signs up for a joke-writing cheatsheet is also the moment they're most likely to be excited about comedy writing.
Scott knows that — which is why he follows up before the moment goes to waste.
After a new person downloads a piece of content:
They get an email with the downloadable content
ActiveCampaign automatically enters them into a series of welcome emails
Scott uses a simple — but effective — nurture sequence to engage people who download the comedy writing freebies on his site.
Scott keeps his email campaign short and sweet. "I don't email a lot, maybe once a week," he says. "I want people to be in the habit of responding to my emails. Enjoying them, seeing them, getting used to seeing useful tips from me."
Here are the three emails that make up Scott's nurture campaign:
Email 1: "I want the world to be a funnier place"
"First, I'm telling people who sign up that I appreciate that they're interested in this subject because I want the world to be a funnier place," Scott explains.
"I ask them if there's anything I can help them with — do they have any challenges in comedy I can help with?"
This question gets people in the habit of responding to Scott's emails.
But it's also market research.
In their responses to this email, Scott's readers send him the things they struggle with. He gets all of the questions they have about comedy — which he uses in two ways:
Every week, Scott hosts a Facebook Live where he answers some of the most common comedy questions
By keeping track of common pain points, Scott knows exactly which topics to cover in his paid online courses
The first email also includes an invitation to a private Facebook group where Scott's students can get feedback from other comedy writers.
Email 2: One simple tip to upgrade your comedy
Scott's second email gives subscribers "one simple tip to upgrade their comedy."
To boost credibility, he also shares an episode of his podcast, where he talks to comedians who have been successful using the same tenets of comedy writing he teaches.
People who signed up for comedy writing probably want to learn more about comedy, right? And seeing an analysis of successful comedians in action is exactly what gets new comedy writers excited for more.
Email 3: How Scott almost got sued by the president
Scott's third and final email in the series includes a funny story about how he almost got sued by the president. (You'll have to subscribe to his email list to see this one!)
He also encourages people to follow him on social media for additional content and writing tips.
Making email marketing personal
Scott's approach to email marketing can be summed up in three words: "It's about me."
"I've always hidden behind a brand name and a product, but now I'm really selling me and my expertise," he explains. "A lot of the value I'm adding comes from having access to me. Having the emails come personally from me, or emails that I respond to personally, personal mentoring — that's an aspect where I need a service like this to manage my communication."
He also doesn't get hung up on subscriber count: "I don't want to have a big email list with a ton of people on it who aren't getting anything out of it." This approach means Scott can focus on engagement.
"I have a really engaged list," he says. "I encourage people to unsubscribe if they're not getting what they want."
At about 1300 subscribers (and growing fast), Scott describes his email list as "small but really engaged, and I'm really excited by the pace of its growth." For a business model that involves direct access to Scott's expertise, this lets him focus on providing personal, relevant information to his subscribers.